Collections with exclusive designs
Our bet ernest&lulu is that you are no longer ashamed to take your fabric tissue out of your pocket (or small handbags).
For this, we decided to design exclusive collections for our brand.
We will follow the seasons! 2 exclusive spring / summer print collections and 2 other collections for fall / winter.
These collections are made by French illustrators exclusively for you.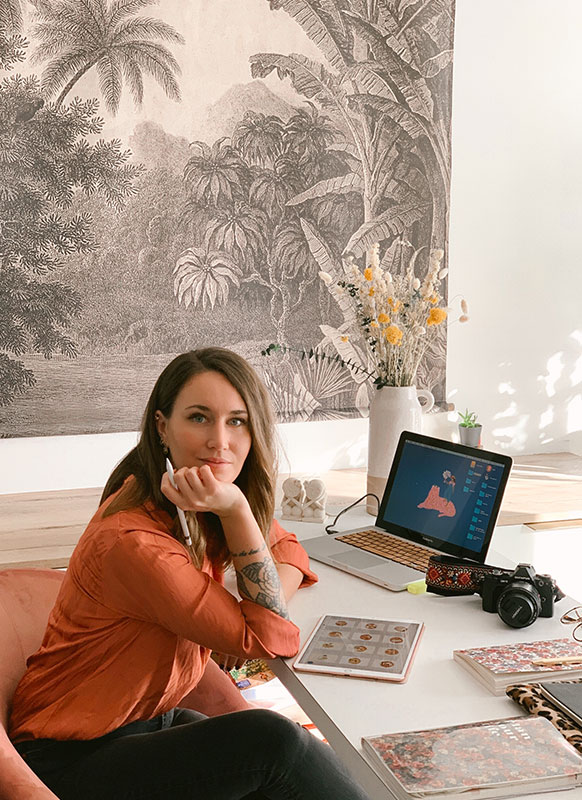 Elisa – Studio Paon Paon
Hello, I'm Elisa Escure, freelance graphic designer and illustrator on the Basque Coast. I draw my inspiration from my lifestyle and my environment, and that's why this collaboration with Lucie, founder of ernest&lulu, seemed obvious to me! First of all because of its ethical and responsible nature, which are values ​​which I am sensitive to and which I try to apply on a daily basis. But also for the themes that Lucie wanted to illustrate on her handkerchiefs.
Brittany, where Lucie is from, is located on the Atlantic coast, just like my region, which allowed me to illustrate this sensitivity linked to nature and the ocean. For this theme that was close to his heart, I closed my eyes and here is what I saw: beach huts and lighthouses, a fresh breeze, wild grasses, crustaceans in salt water and waxed to brave the rain!
The second theme connotes summer, an inspiring season since my place of life is very busy at this time. I wanted to visually transcribe something fresh, almost carefree, with bright patterns and colors. A good dose of sunshine to slip into your pocket!
Découvrir ses créations